QHSE
Quality, Health, Safety, Environment
CBI
Proactiveness and flexibility are keys in a changing world where we need to focus on how to be better tomorrow than today. We use inputs from both QHSE and the entire company to continue the journey towards excellence.
Through our program for optimization and development, "Continuous Business Improvement" (CBI), we continuously improve our skills and competencies to achieve our goal of being your preferred supplier and partner when it comes to cutting, machining and welding of steel, stainless steel and aluminum.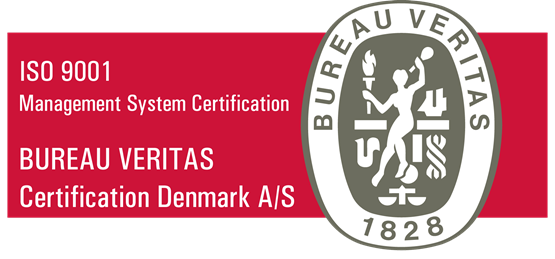 Quality
At BSB Industry we see it as our most important task to deliver quality solutions in steel, stainless steel and aluminum. This means that you in BSB Industry will find a partner who offers and provides professional consulting, meets agreed-on demands and deadlines and delivers a state-of-the art product and service.
We work continuously with quality assurance to provide stable processes in the entire organization which will manifest itself in quality products at the right time. At the same time we have a high level of quality control to ensure products where processes cannot.
EN1090: Re-certification has been completed. We are awaiting the new certificate.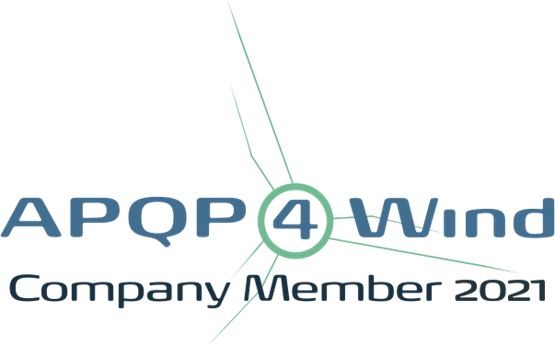 Proud member of APQP4Wind
APQP4Wind is the common frame of reference to be used in the industry to strengthen the cooperation between Manufacturers and Suppliers. APQP4Wind aims to make the process of product quality assurance demands as well as the product release process as clear as possible and have a vision to align and mature the global wind industry supply chain and to be the quality assurance methodology used by the entire global wind industry from design to end-user.
Learn more about APQP4Wind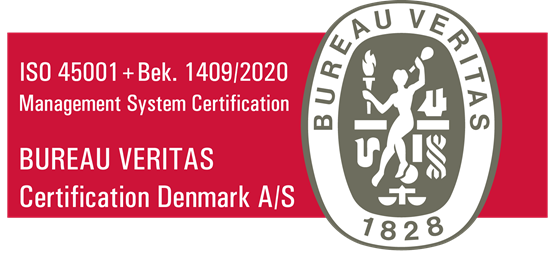 Health & Safety
Our employees are our biggest asset, and it is highly important for us to bring about a workplace, where employees feel welcome and appreciated.At the same time, our aim is to have healthy employees in a safe environment.
These two parameters are big drivers in a changing world, and we use them to ensure that new projects and processes are risk managed.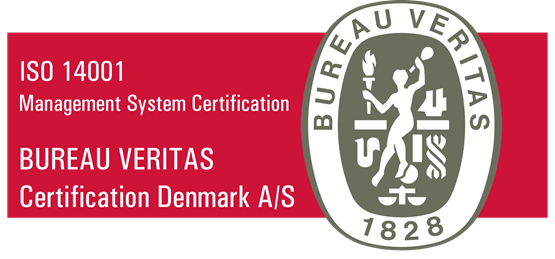 Environment
Being a sub-supplier to the wind turbine industry, it is natural for BSB Industry to work intensively with the environment.This results in a focus on sustainability, circular economy and green thinking.
Energy reduction, waste management and general environmental optimization are all a part of BSB Industry, and are used as a filter in new projects and processes.
SDG's: The UN's 17 Goals
The future of our natural environment is a matter of grave concern to everybody at BSB Industry. We care deeply about the climate and have accordingly our eyes fixed on the UN's 17 Sustainable Development Goals to help create safe and lasting living conditions for our children and grandchildren.
At BSB Industry we have a particular focus on Goal 12, which is about responsible consumption and production and on Goals 7 and 13 that concern sustainable energy and climate action respectively.
Goal 12: Responsible consumption and production
If we really want to do something to ensure a sustainable future, then it is especially our consumption and production ways that we need to change. At BSB Industry, we are constantly striving to minimize our climate footprint in production. We are part of the heavy industry where production equipment is in particular need of high energy consumption. The more important is it that we accept our responsibility with regards to the climate and take necessary action.
Recycling of steel
One of the sub-goals of Goal 12 is that by 2030, we must significantly reduce waste through prevention, reduction, reuse and recycling. In BSB Industry we naturally sort all waste. We recycle everything we can, and by far the majority of the steel we get from the steel mills is today recycled steel from worn-out cars and bicycles and old steel structures.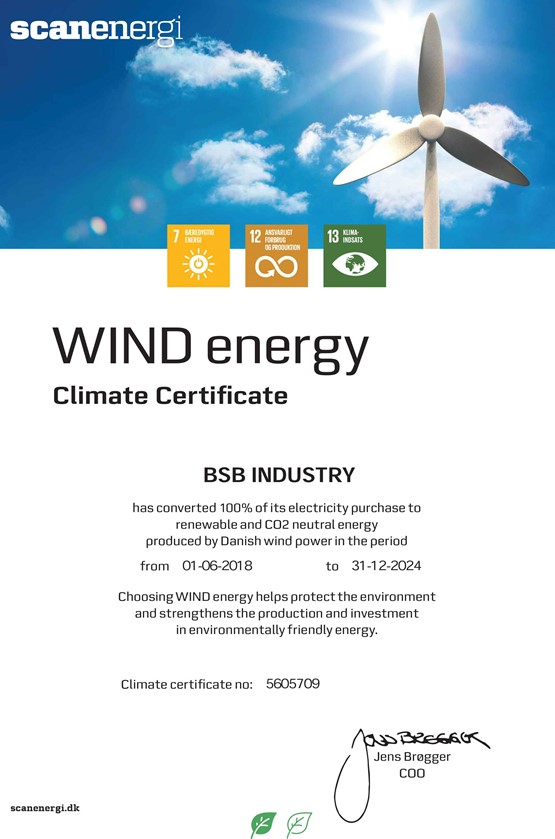 100 percent green energy
For several years now, our production lines have been running 100 percent on green energy generated by wind turbines. Of course, our lighting is by LED, just as the old gas heater has been replaced by an air to air heat pump. The heating of the buildings with the air to air heat pump by itself produces an annual CO2 saving of nothing less than 81 tons.
Efficiencies for the benefit of the climate are constantly under consideration and by installing a demand-controlled ventilation and extraction system we will save an additional 307,000 kilowatts per year.
Environmental Management System 14001(ISO)
At BSB Industry we have implemented the environmental management system 14001. With this ISO certification we create greater transparency and absolute certainty that we work seriously with the environment and the climate by choosing green energy, sorting waste, using recycled materials, producing on new and up-to-date machinery and by constantly focusing on climate-friendly actions that help lay the foundations for a sustainable future.
Goals 7 and 13: Sustainable energy and climate action
Goal 7 is about giving everyone access to reliable, sustainable and modern energy, while Goal 13 is both about slowing climate change and strengthening our resilience towards changes that can no longer be avoided. For example, we must reduce our CO2 emissions by replacing fossil fuels such as coal, gas and oil with sustainable green energy from, for example, wind turbines.
BSB Industry was an early supplier to the emerging wind turbine industry even before there was something called the UN Goals for Sustainable Development. But with the UN Goals to Transform Our World we have become even more aware of the importance of converting from fossil fuels to wind energy, including a growing need for our total solutions regarding, for instance, Anchor Cages.
At BSB Industry we take responsibility and work strategically to constantly optimize and develop our production lines, so that in the future we will be able to care for the environment in the ways we produce and logistically be as close to the customers as possible, this way helping prepare for a sustainable future with regards to energy.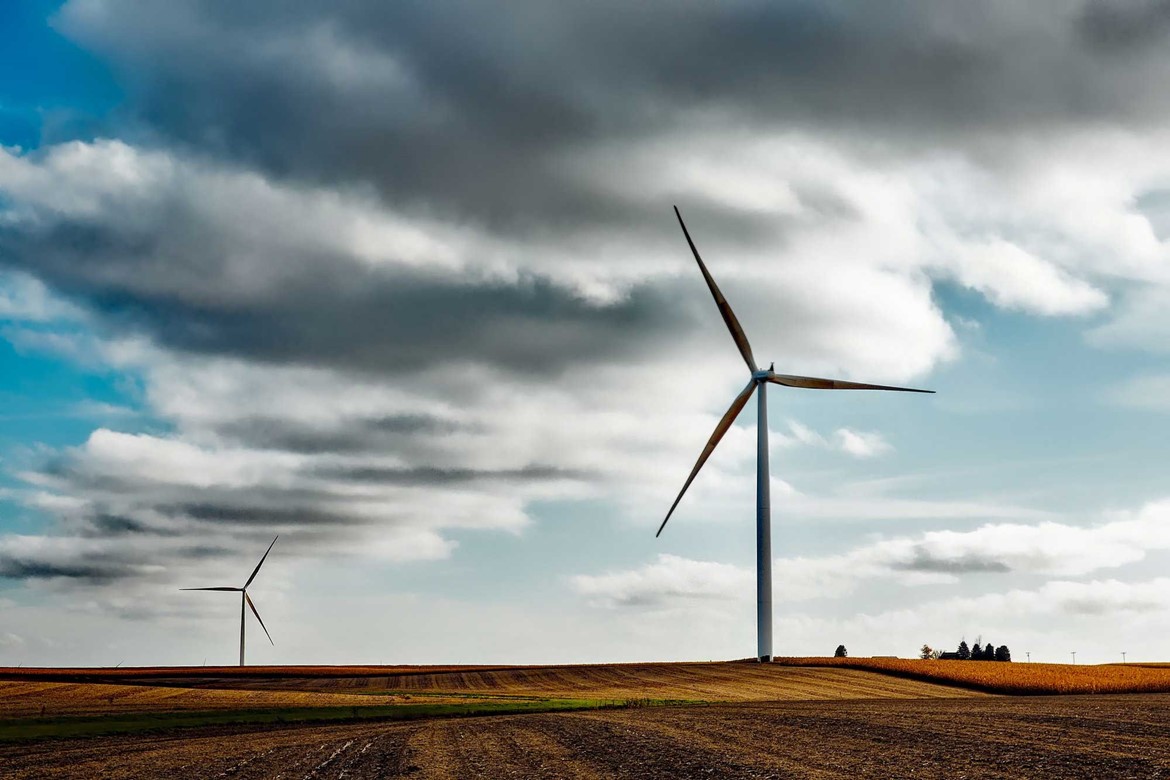 Are you in need of a serious partner?
Do you want to know more about how we work with quality, health, safety and the environment?