Anchor Cage Solutions
Anchor Cage Solutions - Kit Set with flanges, embedment rings, anchor bolts, adjustable feet and foam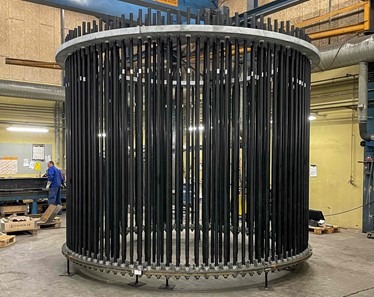 At BSB Industry, we produce thousands of Anchor Cage solutions every year, complete with Anchor Cage templates. The biggest customer of Anchor Cages is the wind turbine industry, where the solution is used to anchor the wind turbine tower to the foundation of onshore wind turbines.
Other industries use Anchor Cages as well. For example, they are used by energy companies in connection with the installation of electricity pylons.
Anchor Cages Kit Set is a smart and economically attractive solution
Our Anchor Cage solutions are typically supplied as ready-made Kit Sets that include: Flanges, template rings, anchor bolts, adjustment feet, foam and other necessary accessories. The solution is naturally adapted to your wishes, requirements and specifications.
At BSB Industry, we produce the flanges ourselves and acquire the other parts from our regular partners. An Anchor Cages Kit Set offers you and your business a solid, smart and economically attractive Anchor Cage solution where great craftsmanship and sound business acumen go hand in hand.
If you want us to stock your Anchor Cages Kit Set, we can offer a storage solution on favorable terms, which also reduces your amount of tied capital. Of course, we supply and deliver Anchor Cages Kit Set to all countries around the world.
Why Choose BSB Industry's Anchor Cages Kit Set?
Smart and economically attractive solution
Large capacity provides high security of delivery
Kit Set with flanges, embedment rings, anchor bolts, adjusting feet and foam
100 percent customized Anchor Cage solutions
World-class craftsmanship
Need Anchor Cages Kit Set?
Learn more about our 100 percent customized Anchor Cages Kit Set with flanges, template rings, anchor bolts, adjusting feet, foam and any other accessories you need for mounting and setup.