Aim for the stars in your next job at BSB
Jobhunting? At BSB, we are non-stop on the look-out for both talented and experienced employees for our production departments and offices. Take a dive into our career universe and inform yourself about BSB as an exceptional workplace.
Meet Claus Iwersen, Partner / CFO
Claus talks about BSB as a workplace. About the company's values, how we work together and why you should consider BSB as your next workplace.
With us, you'll be part of a good team
At BSB, we have a good time when we are at work. We work hard, but we have fun too and we always have time for a chat at the coffee machine. We believe that when we get along well with each other, we achieve great results together.
At BSB, we encourage the professional and personal development of our employees and believe in the mantra that anybody, with the right attitude, can advance from sweeping boy to CEO.
Work-Life Balance
We take pains to secure that all employees' Work-Life Balance is in order, and we all take joint responsibility for keeping an eye on each other in everyday life.
Human dignity and development are essential to BSB, where we run a flat and open organization. We are 300 colleagues in BSB with approximately 70 in Denmark and 230 in Poland.
Meet Rikke van Rensburg, Customer Service Coordinator
Rikke talks about the culture in the company. That we always greet each other with a "Good morning!". That we run an inclusive and versatile workplace with many different tasks, and that we have a really good work environment and fellowship, where social bonding is highly valued, also after working ours.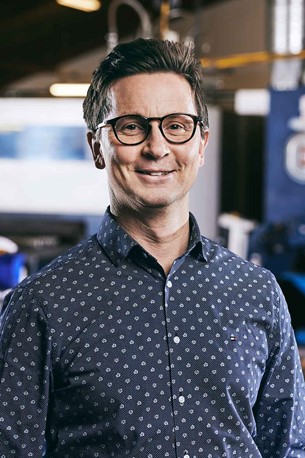 We work closely together on common goals

At BSB, you get a job where you meet challenges and have influence. Through Continuous Business Improvement (CBI), you will be involved in optimizing our work processes, and you will experience the qualities of a flat organization where we work closely together to achieve our common goals.

Claus Iwersen / Partner & CFO
10 good reasons to join BSB
Growth company with an excellent reputation
A solid economic foundation that provides stability
Real freedom with responsibility
Great atmosphere and family-like relationships
High employee satisfaction
An active staff association with good support from management and employees
Flat organization
Minimum of rules
Versatility in the job. Many different tasks and roles. No two days are the same
Good canteen facility and lots of collegial fun and interaction
Meet Peter Knudsen, Machinist
Peter, who works in production, talks about BSB as a workplace. That we have free rein and great bonding with colleagues. That we have a flexible working day and can take time off if we need to. He also says that we have a boss who prefers we take responsibility and make mistakes rather than not taking any responsibility.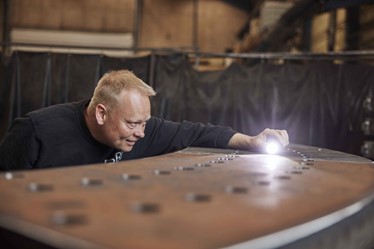 Jesper has grown into his dream job
Jesper Brølling started as a blacksmith at BSB Industry in 2013. Through continuing education and vocational training courses, he has step by step furthered his career to the point where he now holds the position of NDT inspector and welding coordinator.
Read about Jespers career development at BSB
Our values
Healthy values are the foundation of a good working environment
1. Respect
At BSB, it is a fundamental value that we show respect for our customers, our colleagues and the environment. We promise to never be indifferent to these.
We take care of each other and speak courteously to each other, and not about each other. We embrace each other's differences and communicate positively whether we agree or disagree. Our dialogue is always constructive.
3. Openness
At BSB, we strive to be open and adaptable, and we practice thinking outside the box and not putting unnecessary restrictions on ourselves. Most things are allowed at BSB.
Prejudices are, of course, a no go at BSB.
At BSB, you do not only present a problem, and let it be at that, no, you present a solution to go with it at the same time.
4. Stability
BSB is both financially stable but also a company that is well grounded in its values.
At BSB, you get to meet managers and employees who exude personal confidence and energy because they master their job and have great insight and knowledge of the business, the products, the processes, the customers and the culture.
5. Create value for the customer
At BSB, our highest priority is to create value for the customer.
We strive for this in many ways; short delivery times, rapid response to the market, the ability to follow larger fluctuations in volumes and the development of smart solutions and create good and comprehensive solutions that add value and competitiveness to our customers.
A healthy, safe and secure workplace
At BSB, we care deeply about our employees and take their health and safety extremely seriously. Our employees are indeed our greatest asset, and it is of utmost importance to us to foster and maintain a workplace where employees always feel welcome and valued. At the same time, it is our goal to have healthy employees in a safe environment.
Read more about health and safety at BSB
Our staff association strengthens our community
Good and solid bonding between employees is important to job satisfaction. Therefore, we are proud that the employees of BSB on their own initiative have created a staff association that initiates social events.
Just to name a few, the Staff Association and its members have gone go-karting, beer tasting, bowling and to parties several times.
Healthy finances create stability in the workplace
At BSB, we have black numbers on the bottom line. We have our finances in order and engage in cooperation with you on the basis of a solid and secure financial foundation.
Download our QHSE policy paper